CVC VISITS CIL HQ
Apr 6th, 2019 4:35 pm | By
ThenewsmanofIndia.com
| Category:
LATEST NEWS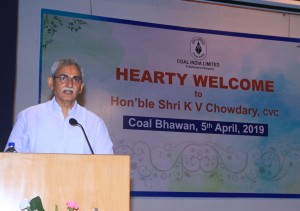 (THE NEWSMAN OF INDIA)
K.V.Chowdary, Central Vigilance Commissioner visited Coal India headquarters in Kolkata. He was received by Anil Kumar Jha, Chairman, CIL,S.N.Prasad, Director – Marketing / Finance, CIL,Binay Dayal, Director – Technical, CIL,R. P. Srivastava, Director – P&IR, CIL and T. Venkatasubramanian, CVO, CIL. He paid floral tributes at the Martyrs memorial. Smt. Vishmita Tej, JS & CVO, MoC and Mukesh Choudhary, Director, CLD / Vigilance, MoC also accompanied CVC during his visit to CIL Headquarters.
Chowdary, CVC addressed a packed auditorium at CIL and kept them spell bound. The audience also comprised of Gopal Singh, CMD, CCL / BCCL,R.R. Mishra, CMD, WCL / MCL, Shekhar Saran, CMD, CMPDI,P.K.Sinha, CMD, NCL,A.P.Panda, CMD, SECL and P.S.Mishra, CMD, ECL. The CVOs of all the subsidiary companies were also present on the occasion. Shri. Chowdary's speech was webcast live across subsidiary companies of CIL.
Chowdary unveiled a Compendium of CIL Guidelines & Circulars on procurement of Goods and a Compendium of Amendments issued to CMM, MCEW and procurement guidelines for works & services.
Anil Kumar Jha, Chairman, CIL and T. Venkatasubramanian, CVO, CIL also spoke on the occasion.
Chowdary, CVC later chaired a review meeting of all CMD's and CVOs of subsidiary companies.