Green Revolition kick starts in MP
Sep 15th, 2015 7:07 am | By
ThenewsmanofIndia.com
| Category:
SPECIAL NEWS COVERAGE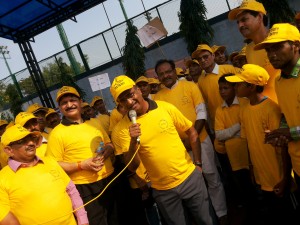 An IAS officer of 1986 batch, MP cadre Pravir Krishn who is quite renowned for his passion and dedicatation for whatever assignment he is invloved with. It happened today wherein Pravir Krishn's efforts seems yeilding flowers and fruits..as roads of Bhopal today witnessed extraordinary zeal amongs adolescents, youths and senior citizens of Bhoal taking part in "Jai Udayan, Jai Jawan" cycle rally to make awareness for promotion of horticulture in Madhya Pradesh. Rally was flagedoff by member of parliament from Bhopal Alok Sanjar and Principle Secretary Small Scale Ind. And Horticulture Pravir Krishn at 7.30 am from Shubhash School which concluded at T T Nagar Stadium after after a journey of about 10 kms. MP Alok Sanjar, PS Pravir Krishn and Retd. IAS Satya Prakash himself drove cycles all through and about 500 cyclists follwed them.
Every was shouting slogans about promotion of horticulture in the state of MP. After the conclusion of rally adressing the cheering crowd Pravir Krishn said yeh to sirf ek jhanki hai abhi sara madhya pradesh baqi hai…there will be a green revolution waiting to grip MP.