'Corruption is a Termite, Needs Injection of Medicine': PM Modi at Red Fort
Aug 15th, 2015 6:07 am | By
ThenewsmanofIndia.com
| Category:
LATEST NEWS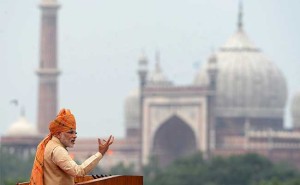 (THE NEWSMAN OF INDIA.COM)
15th August 2015:Prime Minister Narendra Modi warned Saturday that corruption was eating away at India "like a termite" as he used his Independence Day speech to pledge his commitment to eradicating graft and poverty.
"I want to reaffirm that this nation will get rid of corruption. we have to start from the top," said PM Modi, adding, "Corruption is like a termite, it spreads slowly, reaches everywhere but it can be beaten with timely injections."
PM Modi said there had been no allegations of money being siphoned off under his government but acknowledged there was work to be done. "Corruption has to be removed fully from the system," said the Prime Minister. "With your support, I pledge a corruption-free India."
His comments come two days after the end of a rancorous Parliament session, dogged by Opposition allegations of corruption against three top leaders and ministers of his BJP.
The scandals have been particularly embarrassing as PM Modi's election win last year was built in part on a pledge to clean up government after a series of scams under the previous Congress administration.
"India can be free of corruption. We have taken steps to correct the system," PM Modi said. As example, he mentioned coal block auctions in a reminder of the major political scandal during the previous Congress-led UPA government over the allocation of coal blocks.
"Coal block auction has been undertaken by the government. About 3 lakh crore will come into the exchequer. Ask yourself. Has corruption gone or not? Did the doors of corruption in the country close or not? We have done it," he said.
The government's crackdown on illegal wealth through the framing of the anti-black money law, he said, was another such instance. The new law on illegal wealth has made people fearful of stashing black money abroad, said PM Modi. He added that so far, undisclosed income to the tune of 6,500 crore of has been declared.
Opposition parties, particularly the Congress, have accused the BJP government of failing to deliver on its promise to bring back black or untaxed money stashed away in foreign accounts.